Conveniently located to serve The Woodlands and Houston
With ThermiVa in The Woodlands, patients can achieve feminine rejuvenation non-surgically. The device's radiofrequency technology uses heat to tighten vaginal tissue, resulting in increased collagen formation and nerve repair.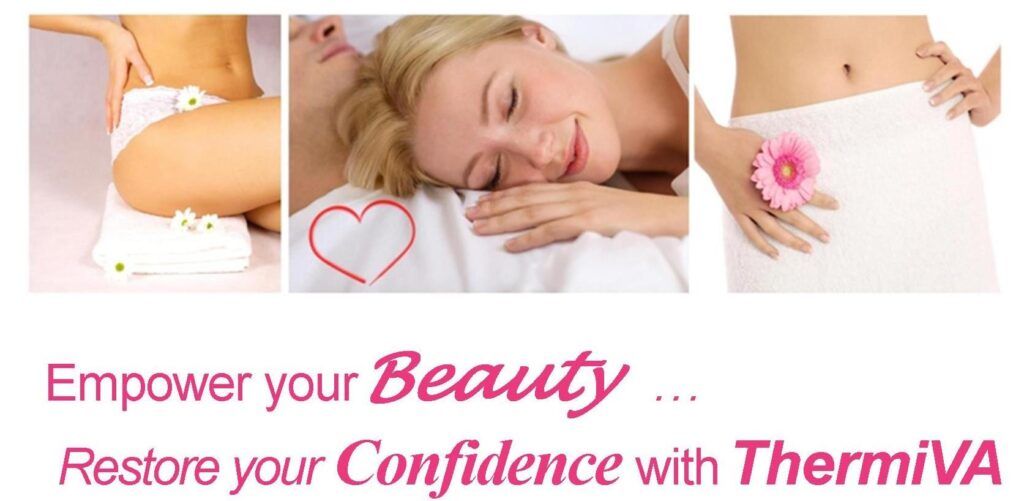 Why Undergo ThermiVa Treatment?
This is an FDA-approved procedure that employs regulated heat energy to tighten and regenerate the tissue in the labia and vagina. This procedure is beneficial for women who are experiencing changes in feminine health as a result of hormonal changes, childbirth, and aging.
This treatment addresses both the exterior and internal vaginal tissues. As a result, the skin is tighter and smoother, and vaginal function is restored.
Who Are Ideal Candidates for ThermiVa Treatment?
This treatment is beneficial for women who want to restore their overall vaginal wellness. Patients who want to achieve vaginal tightening without undergoing surgery are ideal candidates. The procedure is suitable for women who want to address vaginal laxity caused by childbirth and the natural aging process.
ThermiVa is a cutting-edge procedure that aids women in addressing common sexual health issues like vaginal dryness and or diminished vaginal sensation. If you are experiencing urinary incontinence, the procedure is an effective solution.
Patients who are pregnant or have a history of skin infection in or around the treatment region should avoid ThermiVa treatments.
The ThermiVa Procedure
Pluvia Medical Spa by Sabrina Lahiri MD offers the ThermiVa non-surgical vaginal-rejuvenation procedure in an office clinic setting. The treatment delivers controlled heat energy to the treated region using single-use equipment. The procedure is painless for the patient and does not require anesthesia. Most patients report little discomfort and no downtime following treatment.
Our medical aesthetician can customize the intensity of heat for a comfortable and practically pain-free experience with ThermiVa therapy. Each treatment session will be completed in under 30 minutes by Pluvia Med Spa's qualified practitioners. The number of in-office sessions needed varies for every patient, but it's usually around three sessions.
Results to Expect After a ThermiVa Treatment
Patients notice almost immediate results from ThermiVa therapy that continue to improve with time. Optimal visible improvement occurs after about three months. To achieve the best outcomes, we recommend a course of three ThermiVa treatments; however, some women may show improvement after just a single session.
The results after the ThermiVa procedure are unique for each patient, but many patients who have undergone all three treatments report benefits that last up to two years. After finishing the first course of treatment, many patients report tighter skin, reduced vaginal dryness, enhanced sexual experiences, and decreased urinary incontinence.
"
"I have been extremely happy with Dr. Lahiri's office staff and Dr. Lahiri. Both have been very helpful to me answering all of my questions and being honest about what procedures would give me the best results. I would recommend this practice to anyone who asks where I got my procedure done. I am so happy to have my body back!"
– by Lou T

How Much Does ThermiVa Cost?
The price for ThermiVa treatment will be determined during the consultation. The cost will depend on the number of sessions required for each patient.
Get Started Today
Contact Pluvia Medical Spa by Sabrina Lahiri MD today to arrange an appointment to see whether ThermiVa in The Woodlands is the right treatment for you. Pluvia Med Spa's medical professionals are dedicated to providing you with the outcomes you want while adhering to the strictest medical safety guidelines.
Related Links